To make an appointment please
contact our Rental Office at
(902) 477-4685






Rediscover That Neighborhood Feeling...At FoxWood Terrace

Enjoy living in a friendly suburban community that offers a refreshing change of pace. Located 15 minutes from anywhere in Halifax, FoxWood Terrace offers an attractive natural setting in a peaceful residential area.

FoxWood Terrace offers spacious 1, 2 and 3 bedroom suites which surround a natural tree grove courtyard. Many of our patios and balconies overlook the beauty of the courtyard. Children and adults alike enjoy the peaceful tranquillity provided by this serene setting.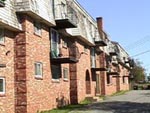 There are several suite layouts to choose from, with some offering arched living and dining rooms which make a very attractive setting for your furniture. Wood flooring is available for those who like the natural look or have throw rugs to dress up their living space. Carpet flooring is also available for tenants who prefer a color accent to their accommodations.


Close to schools, bus, shopping center, wave pool, library, drug stores, medical services and fast food outlets too!
There is a parking space for every suite, and it's all inclusive.
We offer secure vehicle/trailer winter storage in our underground garage.
We offer a Seniors Security Network on the premises.
Hot water heating/domestic hot water are all included.
On site property management office ensures convenient communication and security.
Great landlord too!!!
One more thing...When you come to see us, we'll make it worth you while!

Foxwood Terrace Apartments
14 Foxwood Terrace, Halifax, N.S. B3R 2H7
Rental Office: (902) 477-4685
Fax Number: (902) 477-6239
Email Address: paradigm@eastlink.ca